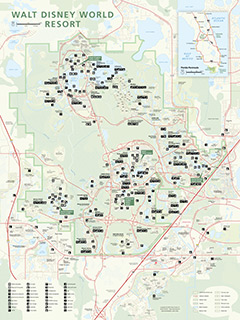 This is an unofficial map of the Walt Disney World Resort in Florida. The map is in the style of a National Park map and shows all points of interest, with roads (and driving distances), walking routes (and walking distances), monorails, trains, cast member-only roads, and much more.
The points of interest are marked with National Park-style icons and include: beaches, waterfalls, caves, campgrounds, lodging, restaurants, bus & train stations, gas stations, Skyliner stations, toll plazas, ski lifts, swimming pools, golf courses and more.
Explore the interactive map below or download this sample image. The map is now also available as a high-quality poster print.